Posted on July 26, 2010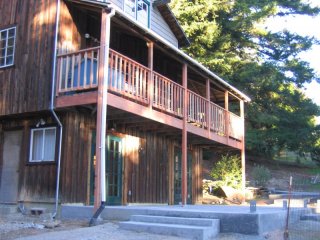 For this project I worked side-by-side with the local concrete company, AC Bently and Associates, in order to reconstruct the new footings for the support posts to blend in with the new patio they poured.
This deck was unsafe due to rotting old footings, supports, and railings.  I first had to replace all footings, 4×6 supports leading up to the deck so to save the existing deck and roof.  I then could replace and update the deck facia and railing with new All Construction Heart Redwood, to finish the project off.  The owner was extremely happy to have her deck back in action and has called me with interest in designing and building a custom arbor to complete her outdoor space.