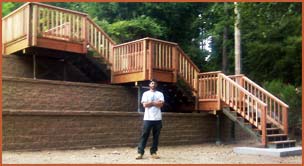 PR Woodworks is a construction company that focuses primarily outdoors; however, we have  grown and do some indoor carpentry, as well as build various specialty custom projects. It is owned and operated by me, Pete Rocheleau, and I pride myself on focusing on customer satisfaction in the creation, repair, and maintenance of all projects. I am a licensed contractor, and create all designs with my customers. I strive to make the designing and building process enjoyable and affordable for all budgets.  Whether the job is high end or a simple repair, I will work to ensure complete satisfaction for the entire project.
I have been working in outdoor construction and the landscaping field for more than 20 years.
Starting out in the trades in my hometown of Cheboygan, MI, I worked until 2003 when I moved out to Santa Cruz. I worked at a local landscape design company in Santa Cruz, and was the lead carpenter and manager of the carpentry crews.  I ended up leaving  this company to start my own company, PR Woodworks.
Look through this website for pictures of  past projects as well as on Yelp to read customer reviews.
Contact Pete today for free a consultation regarding your project idea or any of your outdoor carpentry needs.